September 14, 2022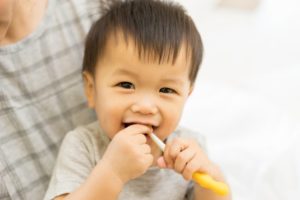 As a new parent, you're going to experience many firsts with your child—their first smile, their first steps, their first words. Another important milestone in their growth and development is the first time they visit the dentist!
To set yourself and your little one up for success, here are some things you need to know about meeting your pediatric dentist in the first dental appointment.
The First Visit Should Happen Early
At one year old, your child may not seem old enough for a dental checkup, but that's the age the American Dental Association recommends starting. Beginning these appointments early on in their life will establish these visits as an essential, healthy habit. As a result, your child will be more likely to continue going to the dentist regularly as an adult.
If your child is older than one year old, don't feel guilty. It's better to start now rather than wait until they experience a toothache or other dental emergency.
Your Child May or May Not Have Their Teeth Cleaned at the First Appointment
Although a one-year-old won't be able to sit still for a cleaning, the pediatric dentist can quickly and gently examine their teeth to make sure their baby teeth are coming in well. As they grow, professional cleanings will be added to the appointment.
Your Pediatric Dentist Wants to Provide Positive Dental Experiences
Especially at the first dental checkup, your pediatric dentist wants to make a positive impression on your child. They may spend some time simply getting to know them and allowing your child to become familiar with them, the office, the instruments, and the chair. In future appointments, when your little one is more comfortable and has built trust, the pediatric dentist can then address additional treatments.
The First Visit Is a Great Opportunity to Ask Questions
Especially if you are a first-time parent or notice something that could be out-of-the ordinary, feel free to ask your pediatric dentist any questions may have about your child's oral development. They are an invaluable resource for knowing what you can expect, tips for dealing with teething and other issues, and give you advice for oral hygiene at home for your little one.
Having an idea of what you can expect during this appointment can help you feel more prepared for that first appointment. It can also help you prepare your little one to have a successful experience. When you talk positively about going to the dentist, over time, they can subconsciously learn that it is a good thing and enjoy these visits as they go through many other firsts in their life!
About the Practice
Unlike general practices that treat kids, Kids Dentist is a practice specifically designed for young children up to teenagers. Our board-certified pediatric dentists have years of experience working with these age groups and strive to make every visit as pleasant and productive as possible. If you would like to schedule your child's first dental visit, you may reach out to our Grayslake office through our Contact Us page here or by calling us at 847-223-1400.
Comments Off

on First Dental Appointment: What You Need to Know