August 15, 2022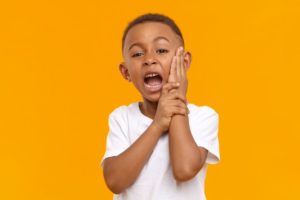 Going into parenthood, you think you know how things are "supposed" to go. Once reality hits, you see that life doesn't always happen according to plan. For instance, baby teeth are supposed to fall out on their own when the time is right. But under certain circumstances, baby tooth extraction becomes necessary. Below are four reasons why a baby tooth may need to be extracted prior to it coming out naturally.
Overwhelming Decay
Most kids get cavities. In fact, about 70 percent of people have had at least one cavity by the time they turn 18. Whenever possible, your dentist will treat a cavity with a filling or even a dental crown (usually for molars). However, if the decay has reached a point where the tooth structure cannot be saved, it is removed entirely. Otherwise, the infection could spread to the underlying adult tooth or even the brain and cause a life-threatening situation.
Injury or Trauma
Especially early in life, many children have little tumbles or falls. In the process, they may sustain a blow to the face, damaging their teeth or gums. Sometimes, the baby teeth are salvageable, but others are not and are removed.
Depending on how prematurely the baby tooth has come out, the dentist may recommend putting in a space maintainer to keep the other primary teeth in the best possible alignment.
Erupting Adult Teeth
As a child ages, they are supposed to lose their primary teeth naturally, and then soon after, the adult teeth erupt to take their place. But that's not always the way it goes. Sometimes, baby teeth linger longer than they should, and the adult teeth underneath erupt either behind or in front of them, creating a shark-like appearance. Extracting the baby teeth provides more space for the adult ones to fit within the arch and line up in a healthier position.
Orthodontic Treatment
One of the most important roles that baby teeth play is to hold a place for the adult teeth and keep the correct alignment. However, some baby teeth can actually get in the way! To prepare for orthodontic treatment, a baby tooth may require extraction so that the remaining teeth can be lined up properly.
If your child must have a baby tooth removed, don't worry. Even though it didn't come out naturally, your children's dentist can make sure that their smile is developing in a way that leads to lifelong oral health and a beautiful smile!
About the Practice
At Kids Dentist, there are four pediatric dentists on our staff. Each comes with a different background, but we all are driven to help children smile with more confidence. As much as possible, we avoid tooth extraction, but we certainly have the training and experience to carry it out skillfully. If you think your child may need to have a baby tooth removed, you can schedule an appointment by calling our Grayslake office at 847-223-1400 or visiting our Contact Us page.
Comments Off

on 4 Reasons Why Your Child's Dentist May Recommend Baby Tooth Extraction