Nitrous Oxide Dental Sedation – Grayslake, IL
Making Little Nerves
Disappear
Why Choose Kids Dentist?
Friendly Team
Led by 4
Certified
Pediatric
Dentists
Trusted by Grayslake and Lake County Families for Over 26 Years
Happy
to Accept
& Maximize
Dental
Insurance
The entire team at Kids Dentist goes out of our way to ensure our little patients feel comfortable from check-in to checkout, but for certain children, a little extra help is needed. That is why we offer nitrous oxide sedation, an extremely gentle, safe, and effective way to calm nervous children and enable them to relax during their appointments. Whether your child needs a checkup and cleaning or has a problem tooth that requires repair, nitrous oxide dental sedation from our Grayslake, IL pediatric dentist can help them finally breathe easy in the chair and not be afraid of the dentist. To learn more about using it at your child's next appointment, give us a call today.
What is Nitrous Oxide Dental Sedation?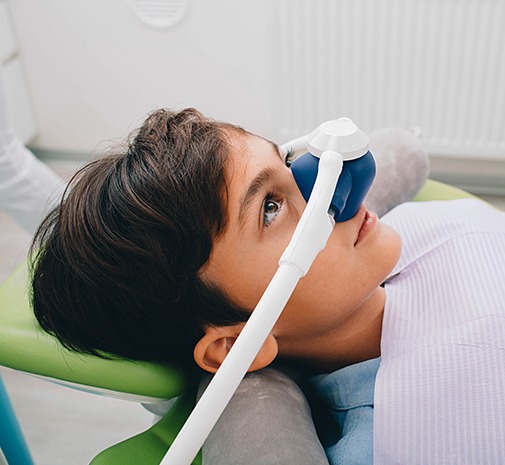 Nitrous oxide/oxygen is a blend of two gases, oxygen and nitrogen. The blend is given through a small breathing mask placed over the child's nose. The gas merely relaxes the child. It does not put the child to sleep. While inhaling nitrous oxide/oxygen, your child remains fully conscious and keeps all their natural reflexes. It offers a way to prevent anxiety and physical discomfort at the same time, allowing a child to feel safe at the dentist.
The gas itself is administered using a small mask placed over the nose, and it remains there throughout the entire appointment. One of the biggest benefits of nitrous oxide is that once the mask is taken off, the effects wear off almost instantly, meaning a child can get back to their regular routine without delay.