Checkups & Cleanings – Grayslake, IL
Keeping Your Kid's Oral Health on Track
Starting around the eruption of their first teeth (usually before their first birthday), children should begin a checkup and cleaning in Grayslake twice a year. These appointments are a vital part of making sure your young one's oral health stays on track. What exactly is involved in these appointments? Below, we explain why these visits are so important and what you can expect to happen during them. As always, if you have any questions, you are welcome to call us.
Why Choose Kids Dentist for Checkups & Cleanings?
Board-Certified Pediatric Dentists
Welcoming Atmosphere
Establish the Foundation for a Lifetime of Good Habits
What Happens During a Dental Cleaning?
During a dental cleaning, a hygienist will remove plaque and tartar from your child's teeth, as well as floss and polish the teeth. We understand that this is a new experience for most children, so our team will go above and beyond to help your little one feel comfortable and at ease. We pride ourselves on the ability to adapt to the needs of individual children.
Other things that the hygienist may do include:
Count your child's teeth.
Check for signs of any oral health problems that their children's dentist in Grayslake should take a closer look at.
Note any areas where there is room for improvement in your child's oral hygiene routine.
Apply a topical fluoride treatment.
What Happens During a Dental Checkup?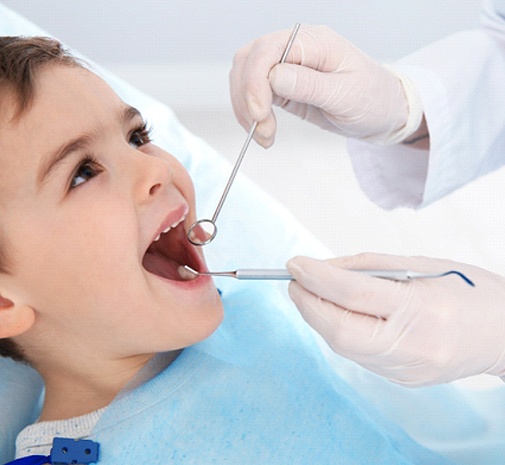 Our team may take some X-Rays of your child's mouth. This will allow us to understand what is happening underneath their gumline and in other areas that are difficult or impossible to see during a routine visual examination.
When the pediatric dentist in Grayslake comes in to examine your child's mouth, they will look at those X-Rays and carefully inspect your child's teeth and gums. If there are any cavities or other signs of oral health problems, the dentist will talk to you about treatment options.
Why Are Checkups & Cleanings So Important?
As a "children's dentist near me," we feel strongly that cleanings and checkups are an essential part of a child's health and overall development. There are several reasons for this:
We can catch oral health problems early on. Regular cleanings and checkups give us the opportunity to identify oral health problems while they are still in their relatively early stages. This can prevent the need for extensive and uncomfortable treatments.
We can prevent the premature loss of baby teeth. Baby teeth are designed to come out, but if they are lost too early, it can interfere with the positioning of permanent teeth.
We can help your child learn good habits. Our team is always willing to coach patients on how they can take excellent care of their teeth. As a dedicated "pediatric dentist near me," we want to set our community's youth up for a lifetime of healthy smiles!
We can help your child develop a positive view of the dentist. Regular dental visits and gentle care can make appointments seem less scary, which can give your little one a long-lasting, positive view of professional dental care.
Is it time for your child's next cleaning and checkup? Get in touch with us today to request an appointment!