November 3, 2021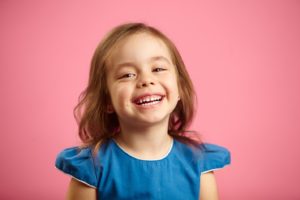 In a world where anyone can post anything on web pages or social media, it's easy to get caught up in a flow of misinformation. Unfortunately, messages about children's oral health are no exception to the rule. There are some popular ideas out there that that can pose a danger to your little one's smile. Let's bust five dangerous myths about children's dentistry.
Myth #1: It Doesn't Matter if You Take Care of Baby Teeth
Because a child's baby teeth will eventually fall out, it might not seem to matter if they are well cared for. Nothing could be further from the truth. Primary teeth play a vital role in helping your child eat and speak. They also serve as placeholders for the adult teeth, so if they fall out early, it can lead to dental misalignment later on. Plus, toothaches in baby teeth hurt just as much as toothaches in adult teeth, and no parent wants to see their child suffer.
Myth #2: It's Fine to Give Kids Fruit Juice in a Sippy Cup
The sugar in fruit juice interacts with oral bacteria, leading to the formation of plaque. If a child slowly consumes juice throughout the day, the problem is even worse because with each sip, an "acid attack" begins on the teeth. Taking a long time to drink fruit juice lengthens the amount of time that the teeth are vulnerable to harm.
Myth #3: Sugar Is the Only Cause of Cavities
Sugar is a cause of cavities, but not the only one. Starchy foods, like bread, pasta, and chips, can also harm the teeth. That's because when complex carbohydrates break down, they become sugars. If a child has a lot of starch that gets stuck in the grooves of their teeth or between their teeth after meals, they may be more likely to develop cavities. Drinking plenty of water can help to lower the risk.
Myth #4: Kids Can Brush Their Own Teeth
Your child might be eager to brush their own teeth by the time they are 4 or 5 years old. You can certainly let them handle the toothbrush to let them practice, but keep in mind that they may not yet have the fine motor skills to do a thorough job. An adult should supervise their toothbrushing until you are confident that they can handle the task on their own. Usually, this is somewhere between 6 and 9 years old. You can use plaque-disclosing tablets once in a while to see how thoroughly your child brushes.
Myth #5: Kids Shouldn't Chew Gum
Kids should not chew gum with sugar in it, but sugar-free gum is perfectly fine. In fact, it can actually reduce the risk of cavities by increasing saliva production and helping to wash away bacteria and food particles.
Were you surprised by any of the information in this article? Do you have questions about how best to care for your little one's oral health? Your pediatric dentist will be happy to talk with you the next time you bring your child in for an appointment.
Meet the Practice
Dr. Sonia Gutierrez and her associates are proud to care for young smiles in the Grayslake area. Our practice welcomes children of all ages, from infants to teens, and we are passionate about helping the next generation enjoy all the benefits of strong, healthy teeth. If you have questions about how to care for your young one's smile, contact us at 847-223-1400.
Comments Off

on 5 Myths About Children's Dentistry — Busted!