February 10, 2022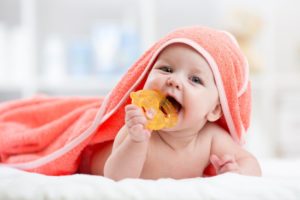 As a brand-new parent, you experience a lot of firsts—the first coo, the first smile, the first giggle. But having a baby is also full of unknowns. You may not know what to expect or whether certain symptoms are normal. You can worry about their growth and development and wonder if you're doing everything correctly. One area that can be particularly stressful is teething.
Here is a quick guide to help you understand what's going on with your baby's mouth and how you can make this phase of their life easier.
Why Baby Teeth Matter
At first glance, it can be easy to ignore baby teeth. Eventually, they come out and permanent, adult teeth replace them. However, you need to take care of these little primary teeth! They serve important purposes in your child's oral development and overall well-being.
First, baby teeth directly line up with permanent teeth, which start developing long before they erupt. If a baby tooth is lost too soon (either from injury or decay), the permanent tooth underneath can become misaligned or damaged as well.
In addition, without healthy, strong teeth, your baby won't be able to fully enjoy solid foods later on. They need their primary teeth to eat nutrient-rich foods, which impact their growth and development physically and mentally.
When Baby Teeth Erupt
The timing of when baby teeth come in is not exact. Each baby is different and may teeth sooner or later than the "norm." Don't stress out if your baby is a little late or early in getting their teeth. If you are really concerned, you may meet with your pediatric dentist, who can double check whether your baby is developing properly.
The first baby tooth, the lower central incisor, usually cuts through the gum tissue around six to twelve months after birth. By the time your baby becomes three years old, they should have all their baby teeth, including two sets of molars.
When Baby Teeth Come Out
When your child turns six, they may start to experience a loose tooth and may expect a visit from the Tooth Fairy. From then until they turn twelve, they will shed their baby teeth, and the permanent ones will start to grow in. Again, it's important to wait until the baby teeth are ready to come out naturally to help protect and align their adult teeth.
How to Take Care of Baby Teeth
From the time that first tooth becomes visible, it's time to start brushing every day. If your child is struggling with teething, they can be extra fussy or not get enough sleep. On particularly hard nights, you may give them over-the-counter children's pain reliever as directed. You can also give them cold teething toys to chew on.
Parenting may be new to you, but your pediatric dentist is here to support you and help you know what to expect. Take a deep breath and know that getting baby teeth is a natural and necessary part of your child's development. You've got this!
About the Practice
At Kids Dentist, we are proud to have four pediatric dentists on staff. We enjoy helping young patients and their parents learn about oral health, and we take the time to answer questions. Our dentists come from different backgrounds, but we all share a deep passion for teaching families how to take care of growing smiles. If you have questions about your child's oral development, you can schedule an appointment by calling our office at 847-223-1400 or going online here.
Comments Off

on Your Quick Guide to Baby Teeth