July 14, 2022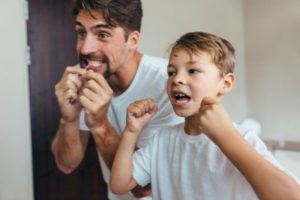 After dinner, your young child runs up to you to tell you something. While they share a story with you, you get distracted by a piece of food stuck in their teeth. You realize it's time that they learn how to floss—after the story is finished, of course.
As essential as brushing is to keep teeth strong and healthy, it only reaches about 60 percent of plaque. Flossing captures the rest! But how can you teach your child how to floss without one or both of you getting frustrated? Here are some valuable tips!
Use Visuals
Many kids learn about the importance of flossing best when they can clearly see how floss helps. To give them an idea of the difference flossing makes, you can eat some chocolate or another visible food and then floss, showing the bits on the string. They should quickly see how food, especially sugary or starchy foods, can squeeze between teeth and cause trouble.
Floss Together
Especially early on in life, your child is closely watching you, often mirroring your choices and mannerisms. In other words, you have a lot of influence over your child and can help them develop healthy habits at a young age. If they see you flossing, they'll not only learn that it's important, but they'll also see your technique and try to emulate it. Plus, flossing together can make the time go by a little faster and make this daily task a little more fun!
Make Flossing Fun
When you introduce the concept of flossing, you can have your child first do it on a larger scale. As a fun activity, you can use a Duplo block, PlayDough, and yarn and let your child experiment with techniques. Just put the PlayDough—the bits of food and gunk—in between the large dots on the block (i.e., the teeth), and then use the yarn as floss to clear it out. Once they get the concept, they can move on to their real teeth.
Also, while your child flosses, you could play music or offer them a small reward for flossing consistently. Find a way to make the process more exciting and fun for everyone!
Practice, Practice, Practice
Flossing isn't a skill your child will master overnight. It requires practice every day. Sticking with it, however, will turn this task into a habit. As a result, it will start to feel natural and be less of a struggle for everyone. Until then, try to stay positive about flossing and help them see why it's important to do a thorough job every time.
If you need help learning proper flossing technique, your pediatric dentist can offer some professional advice.
Ultimately, you need to find the method that works best for you and your child. Flossing shouldn't be a dreaded chore they must do every day. By using these tips, you can help them smile as they take care of their smile!
About the Practice
At Kids Dentist, we are focused exclusively on growing smiles. Whether your child needs a regular checkup or emergency care for a sports injury to the mouth, we are here to help! As board-certified pediatric dentists, our four-dentist team knows how to make young patients feel comfortable in the chair. To schedule an appointment at Kids Dentist, you can contact our Grayslake office by calling 847-223-1400 or visiting our Contact Us page here.
Comments Off

on 4 More Tips for Getting Started with Flossing