June 17, 2022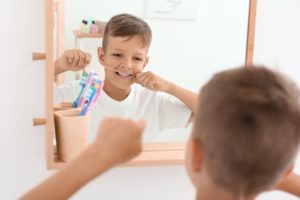 As a parent, you probably already know that children can pick up different habits and skills just by watching their parents. Unfortunately, flossing rarely makes this list! Learning how to floss takes time, practice, and adequate instruction to ensure their smile stays happy and healthy. If you're finding that teaching your little one how to floss is quite a challenge, try out these four tips to make flossing easier and more fun for the whole family!
1.) Make Flossing a Family Activity
Children are far more likely to practice good dental hygiene habits if they watch their parents do them. So make flossing a family activity! Have everyone floss together, and consider making it a party by putting on some fun music and making silly faces in the mirror. As an added bonus, this will help you get into the habit of flossing as well!
2.) Use a Reward System
Help your child visualize their progress with a flossing chart, where you put a sticker on the chart every time they floss. Then, when they reach a certain number of stickers, give them some sort of little reward or prize! The flossing chard will be something that they're proud to show off and will encourage them to keep building the habit.
3.) Try Some Fun-Flavored Floss
There's more to the world of oral hygiene products than mint flavoring! Consider picking out some fun flavors of floss for your little one, like cotton candy, citrus, cherry, strawberry, or more. The new tasty flavor will act as an inventive to get them excited about flossing. Just make sure whatever you pick out has the ADA seal of approval!
4.) Use Dentist-Approved Flossing Tools
Flossing can feel awkward and difficult for adults and children alike, which is a big reason for many why this habit is so hard to keep. If you find this to be true for yourself or your child, talk to your pediatric dentist about the available alternatives. They can point out options like floss picks to help make maneuvering the floss in their mouth a bit easier. Some even come with fun animal shaped handles in different colors! Remember, not all products have been tested and approved for effectiveness, so make sure to consult with your dentist about which options are right for your family.
Flossing is by no means a popular pastime, but it can make a tremendous difference in the long-term well-being of your little one's precious smile. Try the tips above and talk with your pediatric dentist to make flossing a regular part of your child's life!
About the Practice
Our team of Board-Certified pediatric dentists has been serving Grayslake and Lake County Families for over 26 years. Our goal is to make every appointment enjoyable for kids and parents alike using a combination of our friendly staff and gentle treatments. We are happy to come alongside you to help teach your child how to take care of their smiles themselves, including all the most effective flossing techniques. If you have more questions, we can be reached online or at (847) 223-1400.
Comments Off

on 4 Tips to Help Teach Your Kids to Floss